Our lives become more digital every day. We type rather than write, work from home if we cannot reach the office, and rely more on Wikipedia than an encyclopaedia. We are all digital natives leading digital-first lives.
Heightened cyber risk is inevitable with such a digital lifestyle because an increase in digital touchpoints increases our attack surface. A cyberattacker can attack us on our PC through a website or an application, introduce malware to steal our passwords, or use no malware at all in a phishing attack.
Staying cybersafe in such a digital environment requires antivirus like K7 Total Security Powered By MAT that is designed to protect end users against cyberattacks that keep increasing in sophistication and frequency.
There are 7 reasons why K7 Total Security Powered By MAT is the preferred choice of the modern netizen:
1. International Award Wins

International antivirus testing agencies, such as AV-Comparatives (Austria), AV-TEST (Germany), and Virus Bulletin (UK) test antivirus products to determine their effectiveness. Other international organisations, that evaluate all technology products, also test antivirus. K7 Antivirus has frequently and consistently won awards for exceptional performance in these tests.
Takeaway: K7 Total Security Powered By MAT provides protection you can count on.
2. Trusted By End Users Around The World
K7 Antivirus protects 25+ million users and secures 40+ million devices across 27 countries. The trust placed by our customers in our products has been earned across many subscription renewals and is a testament to our consistent performance over the years. The wide geographical distribution of customers across more than two dozen nations affirms that the quality of our antivirus products enables us to compete internationally and satisfy the cybersecurity requirements of end users functioning in diverse environments.
Takeaway: The effectiveness of K7's protection has been extensively proven in real-world use.
3. Enhanced with Artificial Intelligence
Antivirus is an arms race between attackers and defenders. Attackers improve their technical capabilities as defences improve, and defenders respond by harnessing state-of-the-art technology, like Artificial Intelligence, to thwart attackers.
K7 utilises Artificial Intelligence in web protection to identify and block access to malicious or inappropriate websites; in behavioural scanning to monitor potentially suspicious processes and block previously unidentified malicious activity; and in ransomware protection to identify and block malicious encryption.
Takeaway: Your protection is assured by the latest in cyber defence technology.
4. High Speed + Low Impact Scanning
There is no shortage of jokes about end users waiting for an antivirus scan to complete before they can resume using their device. But there are no such jokes about K7 Antivirus. This is because K7's products are engineered to be fast and complete scans very quickly. This would not be impressive if high speed scanning is achieved by consuming all the resources (CPU, RAM) available on a device and that is why K7's scanning stands out from the competition because the high speed is achieved while maintaining low impact on computing resources. How low? K7 emerged as the World #1 in the Performance Test conducted by AV-Comparatives.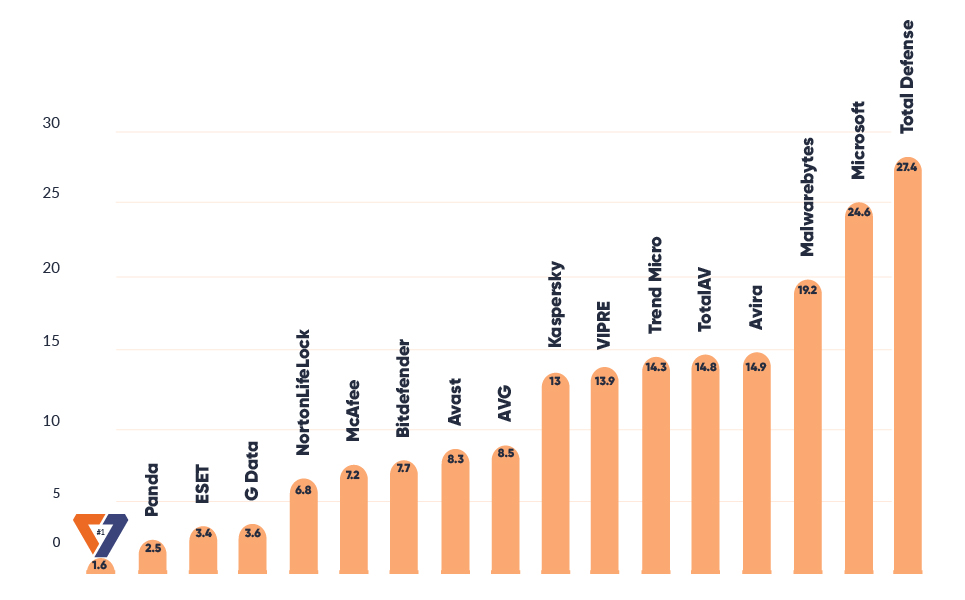 Source: AV-Comparatives – Performance Test April 2022
The test results confirm that K7's products will protect devices without slowing them down. K7 Total Security Powered By MAT users will enjoy world-class protection with no impact on device performance even if they use devices with modest hardware.
Takeaway: K7 Total Security Powered By MAT is ideal for gamers, students, content creators, professionals working from home, and any user who performs computing-intensive tasks.
5. Special Protection Against Ransomware and Social Engineering
There are many types of cyberattacks, but few have the destructive potential of ransomware and zero-day threats. Ransomware is not just a type of malware but also a business model for malware that allows threat actors to extort ransom payments from any victim (K7's whitepaper on ransomware provides more information about this threat). Social engineering attacks like phishing attack the user rather than the device and are therefore difficult to detect and defeat.
K7 Antivirus is powered by MAT – Multi-layered Artificial intelligence Technology – that deploys multiple layers of protection along with signature and behavioural scanning augmented with Artificial Intelligence to defeat ransomware and social engineering, including attacks that rely on obfuscation techniques to disguise their malicious nature and evade detection by less sophisticated antivirus. K7 Total Security Powered By MAT also includes a Data Locker that provides additional protection to files in designated folders.
Takeaway: K7 protects end users from the worst threats to be found in cyberspace.
6. Safe Banking and Shopping
Banking and Shopping both involve transfer of funds, which attracts the attention of threat actors seeking direct monetisation of their attacks. Threats that focus on banking and shopping include malicious emails disguised as special offers or alerts, phishing websites, and theft of credentials.
K7 Total Security Powered By MAT includes automatic email scanning, which checks emails for malicious attachments and links; Safe Search and Safe Surf, which use cloud-based annotation of search results and cloud-based website verification to prevent access to malicious websites that are designed to resembled genuine banking and shopping websites; identity protection, which warns when designated private information is transmitted from the computer; anti-spam, which protects against spam emails that resemble messages from banking and shopping platforms; drive-by-download blocking that protects against malware automatically downloading from websites that a user is misled into visiting; Wi-Fi security advisor that warns when using unsafe Wi-Fi networks; and a virtual keyboard that protects against credential theft by keyloggers.
Takeaway: K7 Total Security Powered By MAT enables safe online financial transactions.
7. Privacy Protection
Digital privacy is critical in the digital age. Theft of personal information could result in several negative real-world consequences for digital citizens. Webcam spying can be used for nefarious purposes; stolen identities can be used to take loans the victim will need to repay; and computer activity history can be used to gain information that is used for blackmail.
K7 Total Security Powered By MAT enables end users to regulate and block webcam access; warns if designated identity-compromising personal information is transmitted from the device; and helps clear computer activity history to protect and preserve user privacy.
Takeaway: K7 Total Security Powered By MAT prevents violation of your digital persona.
K7 Total Security Powered By MAT integrates state-of-the-art technology and 3 decades of cybersecurity expertise to protect netizens against the barrage of cyberattacks they face every day. More information on the product is provided at the official page for K7 Total Security Powered By MAT.