K7 Antivirus is one of the most accomplished antivirus providers in the world. We are committed to democratising cybersecurity by providing effective and efficient protection that anyone can use irrespective of their familiarity with technology. Our relentless pursuit of excellence has ensured we have remained at the forefront of the cybersecurity sector and our expertise has been frequently recognised by international agencies and our peers.
K7 is a global leader in antivirus due to 7 reasons:
1) World #1 Ranking in Efficiency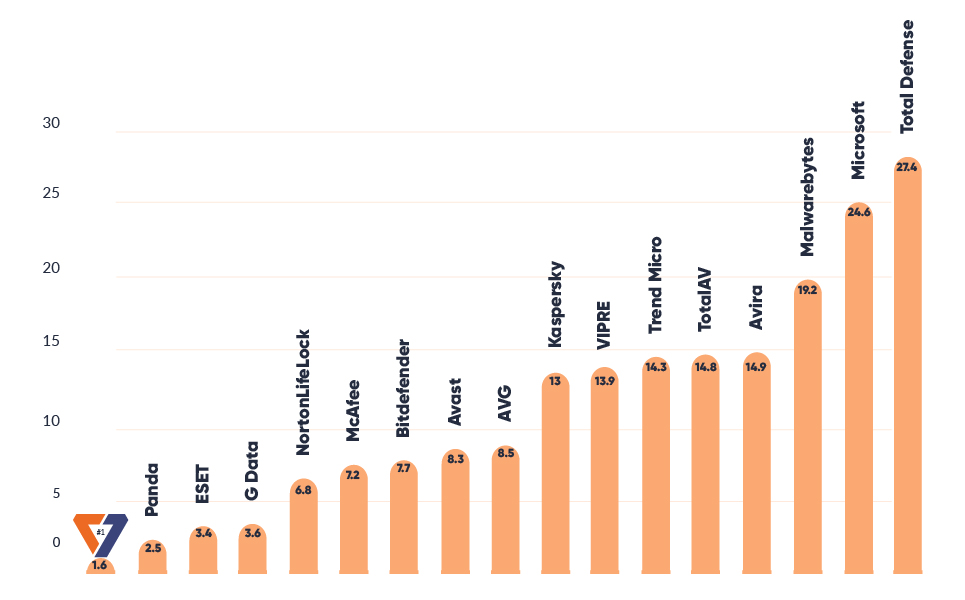 Source: AV-Comparatives
Antivirus products run continuously to provide real-time protection against cyberthreats. This necessitates the consumption of computing resources such as CPU power and RAM. If such resource consumption is excessive, the device will slow down and applications may even crash. This imposes a hidden cost on antivirus as computing users do not get to enjoy the full power of the computer they paid for, and users may be forced to upgrade to expensive devices just to maintain usable performance levels.
K7 avoids these issues by prioritising efficiency when designing antivirus solutions. The low resource consumption of K7's products has been confirmed in the Performance Test conducted by AV-Comparatives of Austria, where K7 emerged as the clear leader in a comparative evaluation of 17 international antivirus brands. Critically, K7 is the only antivirus provider to achieve the Very Fast rating across all of AV-Comparatives' test categories.
Takeaway: K7's protection will not cause your device to slow down.
2) 30+ Years' Expertise
K7 Antivirus was founded in 1991 as a pure play cybersecurity provider; this makes us one of the oldest independent antivirus developers in the world. We have been protecting computing users from cyberattacks since the days of DOS! This wealth of expertise enables us to develop effective defences for existing cyberthreats, long-forgotten attacks that are repurposed to compromise present-day targets, and the attacks that will emerge tomorrow.
Takeaway: K7's 30-year track record enables you to navigate cyberspace with confidence.
3) Technology Pioneer
K7 is a technology pioneer who has shown the world how antivirus should be developed. K7 is one of a few antivirus providers in the world to have developed a proprietary scan engine; it was this scan engine that powered us to our World #1 ranking discussed above. We develop and own all the IP we use in our products, enabling us to adapt quickly to the changing threat landscape without waiting for 3rd party action.
In addition, K7 was one of the first cybersecurity providers to develop anti-ransomware; we also shared our ransomware combating techniques with the world to help protect global netizens against ransomware.
Takeaway: K7 protects you with world-leading technology.
4) State-of-the-Art Threat Lab
K7 aims for high speed protection. Quick malware discovery is an important element in achieving and maintaining speed of protection, and the K7 Lab was established in 1998 to facilitate this goal. The K7 Lab analyses hundreds of thousands of threat samples daily and distributes multiple malware definition updates every day. The K7 Lab is recognised as one of the world's leading malware research centres and has been credited as the first discoverer of several malware.
Takeaway: K7's advanced research capabilities keep you safe from the latest cyberthreats.
5) International Stature
K7's many accomplishments have been internationally recognised which allow us to play a critical role on the global stage in safeguarding cyberspace. K7 is the first and only Indian member of the prestigious Cyber Threat Alliance (CTA). CTA is a USA-based not-for-profit organisation of cybersecurity industry leaders and has partnerships with CERTs, Information Sharing and Analysis Organisations, and others, with the goal of enabling near real-time, high-quality cyberthreat information sharing.
Takeaway: K7 operates at the highest levels of the global cybersecurity industry.
6) International Partnerships
Cybersecurity is described as a team sport, meaning one individual or organisation will not be able to stem the flow of cyberthreats; cyberattacks are a global problem and will require global cooperation among world-class technology firms to secure our digital ecosystem. This point of view is firmly endorsed by K7; we accept strategic partnerships that have the potential to enhance global cybersecurity, such as the Microsoft Azure Sphere Security Research Challenge for IoT Vulnerabilities where K7 is the only Indian programme partner.
Takeaway: K7's expertise is recognised and sought after by the world's most prominent organisations
7) International Awards

International testing agencies evaluate antivirus products to verify how effective they are in doing what they are supposed to do – protect computing users from cyberthreats. K7 has consistently won awards from agencies such as AV-Comparatives (Austria), AV-TEST (Germany) and Virus Bulletin (United Kingdom), reinforcing our reputation for providing superior protection to netizens.
Takeaway: Consistent award wins demonstrate K7's long-term commitment to cybersecurity excellence.
These 7 reasons are why K7 is trusted by 25+ million users across 27 countries to protect their digital lives. Please visit our website for more information on our international award winning antivirus products.