People can have some doubts about buying antivirus online. They can be faced with frauds online that can erode trust. How then should you go about buying it? What factors should you consider in order to make it a worthy purchase? Can all your security concerns be met via an online software purchase? Here are a few tips to guide you in your endeavor.
You can buy K7 antivirus software online without much hassle. Apart from mitigating security threats from viruses, malware, and spyware, K7 ensures the user gets value for money in the online purchase.
In today's age and era, people are living in a digitized world that has seen an unprecedented spurt in the number of online users. Almost every person is hooked on to some internet-enabled device for professional or personal reasons. All such devices require antivirus software to keep cyber-attacks at bay. Privacy is a fundamental right that each living being should enjoy, and the internet, surely shouldn't be an exception.
While several antivirus software's are available in the market, you should certainly buy antivirus that suits your requirements perfectly. A lot of people don't understand what exactly to look for, and thus, end up being victims of cyber-attacks despite buying an antivirus. So, how to buy antivirus online? Here are some tips to help you navigate.
1. Antivirus price
Undoubtedly, the first thing to consider is the price. There's a plethora of software with all kinds of versions, features, and prices. When you buy antivirus for laptop consider both priced and free versions. Choosing the most expensive program is not a necessity to keep your laptops/mobile phones safe. It's also insufficient to buy antivirus software that offers protection against a single set of known viruses. Thus, your software choice should strike a fine balance between price and privacy. None should come at the expense of the other. At times, too low a price can hint at a fraud seller. You need to be wary of such offers!
2. Ensure compatibility while buying antivirus online
While buying antivirus online, you need to ensure, one pivotal thing is to consider its compatibility with your device. This might seem like a very common-sense kind of thing to do; it can be overlooked quite often. You should pay significant attention to the exact operating system.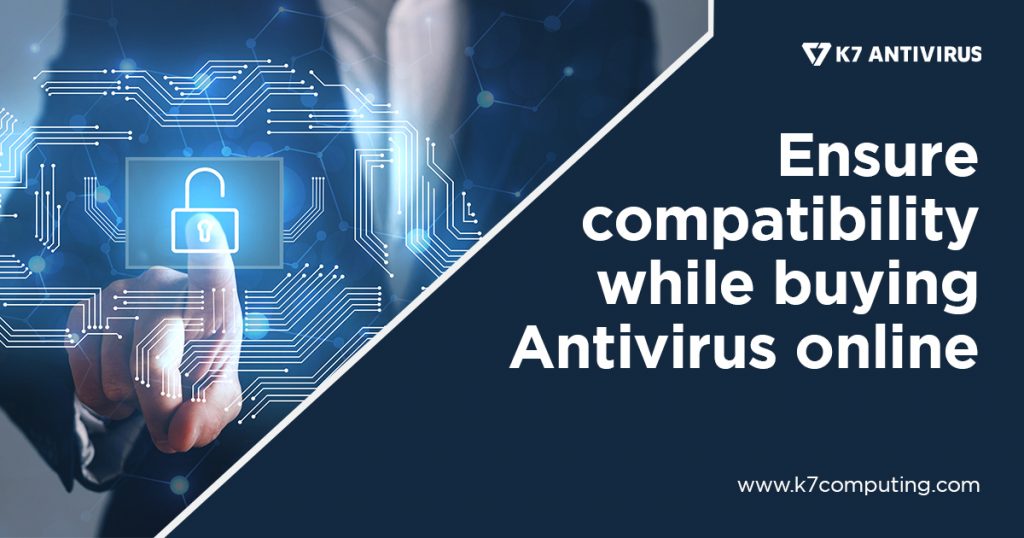 For instance, there are many antivirus programs for windows in the market but not all would be compatible with your system. Incompatible software cannot scan your system properly and thus can't detect and avert all possible threats. Mac users can still get away with a little incompatible software, but window users must be particularly attentive.
3. Free trial
When you buy antivirus online for pc, explore options for free trials. Why? It would give you a fair idea of how it works and whether it's the right software for your system. This transparency allows you to analyze if the investment is worth it or not. The only constraint is that free versions of software don't always offer the full range of services. Some features are only available in the paid versions. Nevertheless, a free trial can sometimes save you from a faulty investment. So, be smart and opt for the free trial period to understand compatibility and features better.
4. Real time information
A proactive antivirus software is a must have feature you should be looking for when buying it online. Your antivirus should not only detect cyber security threats but also be on a constant lookout to find and avert any such risks. Many a times, software's are doing post-mortem work. They treat the issues only after it has occurred. Given the advanced nature of cyber attacks, you should go for an antivirus software that understands the nuances of the threats and is well-equipped to handle them in time. Hence, real time scanning and making information available within a limited time can be of immense use. Some software's, even give you the liberty to turn them on/off or pause them at scheduled times. This makes it convenient for browsing/ downloading files on a regular basis by saving the time spent on booting the software.
5. Malware scans and email scanning
As the domain of cyber-threats is increasing, ramping up protection is a natural choice. A good antivirus software, such as K7, doesn't only protect from viruses but also malware and spyware. The trajectory of cyber-attacks globally throws light on how important protection from malware is! The recent incident of the Pegasus attack has unmasked the evils of spyware too.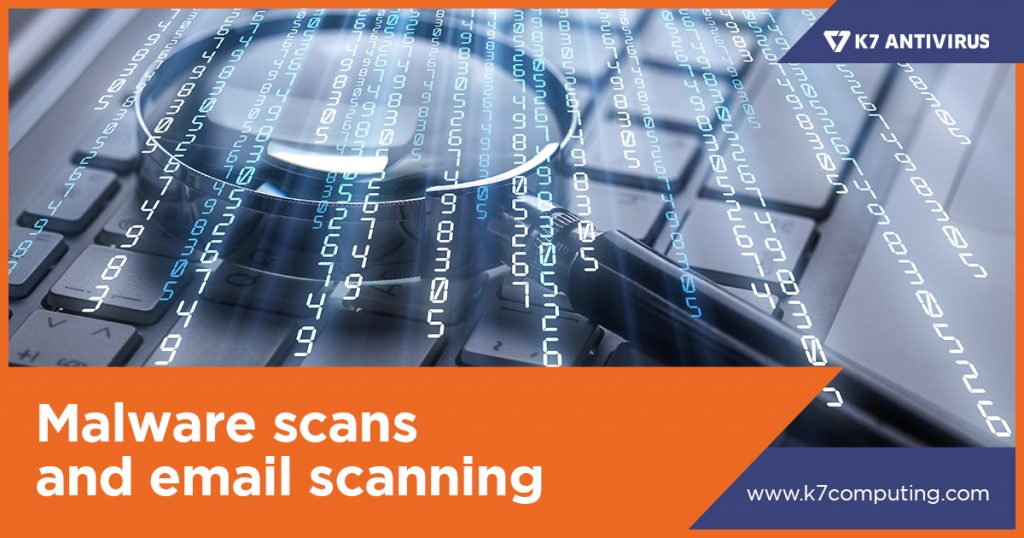 Without even any action on the user's part, the malicious software can wreak havoc on the system. Even while simply browsing the internet, certain files can get automatically downloaded. A scanner for these can offer protection to your system. Several phishing attacks, these days happen via mail. Hence mail scanning should be one of the features of your antivirus software.
6. Download protection
When you download files online, they can be contaminated. A host of malware and viruses and can breach your privacy. So, choose software that scans your downloaded files including the emails. Sometimes, attacks can even take place through embedded hyperlinks. Your antivirus program should be able to send real-time alerts to avert the threat after detecting it. A lot of users don't suspect PDF files and consider them to be safe. But the growing sophistication of attacks proves it wrong. For this reason, a download scanner is a necessary feature to look for.
7. Speed and accuracy
Why should you compromise on the speed of your system in the name of security? A protective feature doesn't have to create lags or slow down your device. With K7 antivirus software, speed isn't an issue at all. So, when you buy antivirus online, check how fast it can scan your system. Speedy scans can save a lot of time. Also, security software running in the background shouldn't take away from important work. You should be able to perform your regular job without any laggards.
8. Buy antivirus key
When you buy antivirus online, the company sends you activation keys via email. This ensures protection. Now, there are some companies that send geolocation locked keys. For such keys, it becomes important to find out if they work in your location or not. Inevitably, they are an added protection feature for people opting for online purchases.
K7 antivirus online purchase: A smart choice to make
With K7 antivirus software, you can ensure a safe and smart purchase online. Offering a wide array of protection against malware, viruses, and even embedded links, K7 is the right choice for you when it comes to buying antivirus online.
We hope that these tips can help you make an informed choice and allow you to choose the best antivirus software online. Consider buying K7 to remedy all your security woes!