AV-Comparatives, one of the world's foremost antivirus testing organisations based in Austria, conducted a performance test in April 2022 that compared 17 international antivirus brands and ranked them based on their impact on device performance. K7 Antivirus emerged as the winner in the test with an impact score of just 1.6, establishing that K7's antivirus has the least impact on device performance.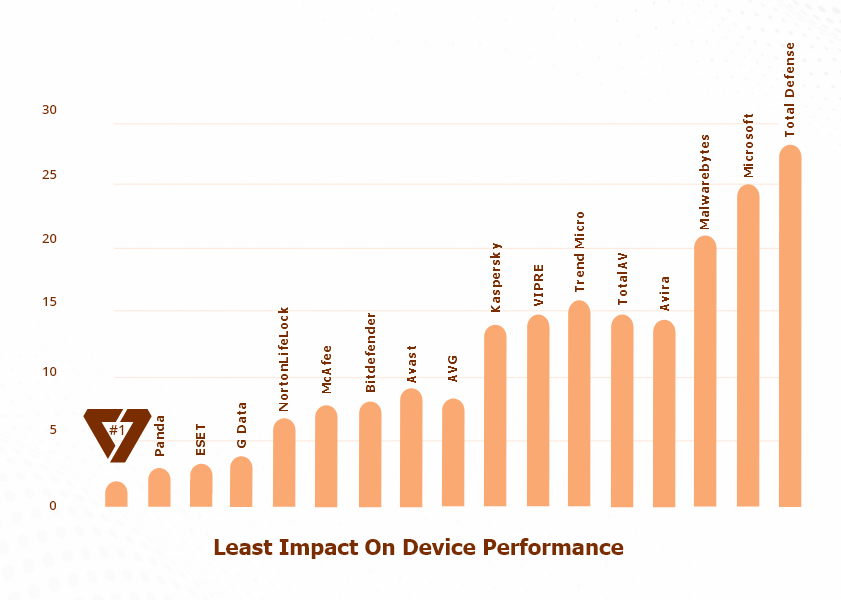 The Performance Test – Methodology
Antivirus programs run continuously in the background to spot and stop threats as soon as they enter the device or deploy their malicious payload. This necessarily consumes computing resources due to constant utilisation of RAM and the CPU. Such resource consumption may make the device sluggish and difficult to use; in extreme cases it may make the device impossible to use, as heavy resource consumption by the antivirus may cause other resource-intensive applications to crash.
Impaired computer performance adversely affects the end user's enjoyment of the device, and may lead to them disabling the antivirus and using their device without protection. Therefore, it is imperative that antivirus vendors design their products to run efficiently with minimal resource consumption. Av-Comparatives' Performance Test has been developed to test this efficiency.
As resource consumption may vary with the task performed, the Performance Test evaluates the antivirus products' impact on performance across several common activities:
File copying
Archiving/unarchiving
Installing/uninstalling applications
Launching applications
Downloading files
Browsing Websites
The tests are repeated multiple times and the median result is reported to avoid unusual circumstances skewing test outcomes. The antivirus products are ranked as Slow, Mediocre, Fast, and Very Fast based on these test results. In addition, the test also utilises the PCMark 10 Professional testing suite to evaluate performance impact during real-world use. The results from all these tests are combined to arrive at an Impact Score.
The Performance Test – Results
K7 Antivirus was the clear leader in the test with an impact score of just 1.6. K7 was the only antivirus provider to score less than 2; its nearest competitor was a distance second with a score of 2.5. Significantly, K7 achieved the Very Fast rating across all test categories, indicating that its winning performance was the result of consistent, exceptional efficiency across all use cases.
When examining the Performance Test results, the vendors who received the worst scores on the test should also be noted as they include a widely used antivirus: Microsoft Defender. Microsoft provides this product for free along with Windows which results in a large user base, but it imposes a hidden cost of poor efficiency on the end user. Microsoft Defender was one of the worst performers in the Performance Test with an Impact Score of 24.6. Only one vendor, Total Defense (27.4) received a worse score.
Implications for End Users
Antivirus products' impact on computing performance has always been an area of concern for power users, but the pandemic has focused attention on antivirus-driven performance impairment due to 2 reasons:
Increasing Cost of Computing Performance
The pandemic has been accompanied by supply chain disruptions that have resulted in a shortage of key computing components just as the demand for PCs surged due to employees across the world working from home. This resulted in an increase in PC costs; end users now pay more for equivalent performance than they did prior to the pandemic and therefore antivirus's impact on device performance has a tangible cost attached to it.
Adoption of Digital Lifestyles
When the world shifted to remote working following the outbreak of COVID-19, we increased our dependence on computing devices and thereby increased the performance we require from them. End users spent more time gaming than before; employees were working with a number of applications open including resource-intensive collaboration tools; and many computing users became content creators and began editing and rendering videos on their home PCs.
The combination of these 2 factors resulted in users receiving poor returns on their investment in PCs if their antivirus was degrading device performance. The Performance Test from AV-Comparatives enables them to understand the efficiency, or lack thereof, of various antivirus products, and the hidden cost of free antivirus.
The Performance Test also has critical implications for the retain-or-replace question. End users who were contemplating an expensive computer upgrade to gain performance may now prefer to try the top scoring K7 Antivirus and defer investing in new hardware as they may gain the performance they require by switching to an efficient antivirus.
The results of the AV-Comparatives Performance Test are discussed in detail in this article. We encourage our readers to examine the analysis presented there and choose the antivirus that works best for them. End users who wish to experience K7's superior protection and performance can find more information on K7's antivirus for Windows, Mac, Android, and iOS on the K7 website.