Every enterprise that makes use of computing resources, which is every enterprise in today's world, relies on several forms of network-based communication, such as LAN and WAN.
Devices within a facility use a Local Area Network (LAN) to talk to each other e.g., a desktop uses a LAN to connect to a printer. A LAN is relatively easy to manage as it is entirely within the control of the organisation and is located within a distinct physical entity such as a bank office, hospital, academic institution, or data centre. These facilities may be a part of a larger organisation that has multiple branches of banks, hospitals, or educational institutions and each of these branches will need to be able to communicate with each other and a head office, which is accomplished through a Wide Area Network (WAN), which connects the LAN in one facility to a LAN in another facility.
Private WAN Constraints
Interbranch connectivity is very convenient and helps improve the organisation's productivity and agility, but creating a private WAN for an enterprise can be very expensive, complex, and unreliable. Modern businesses use technology solutions like internet telephony, videoconferencing, virtualised applications, and cloud-based services from multiple vendors; these solutions require high bandwidth and low latency connectivity across branches that may be situated in different parts of the country (or even the world) with varying bandwidth availability and connectivity options at each site. Private WAN is not designed to manage such workloads.
SD-WAN Overcomes the Deficiencies of Private WAN
Software Defined WAN (SD-WAN) avoids the problems faced when deploying private WAN solutions by utilising conventional internet connectivity, rather than dedicated carrier channels, to enable connectivity between branches. As SD-WAN uses conventional internet, the solution can utilise multiple internet connectivity options available at each branch location to balance the load across internet lines or switch between them to improve the reliability of communication and maintain necessary uptime.
SD-WAN Provides Better Connectivity Management than VPN
Businesses with fewer branches that are located within a smaller geographical area may consider using VPN networks to connect branches to the head office to gain secure interfacility connectivity while avoiding deployment of both private and SD-WAN. A VPN provides point-to-point connectivity and will utilise a single line for all communication, which will turn into a network bottleneck when the number of users, and simultaneous connections between users, increase. The VPN will also be unreliable as it uses a single communication link, creating a single point of failure. An SD-WAN solution avoids such problems by utilising multiple data transport services and intelligently directing data traffic through the optimum route, maintaining reliable communication as the business expands. SD-WAN solutions can also integrate VPN solutions to provide inter-branch VPN connectivity where required, while maintaining the reliability and uptime of SD-WAN.
K7 SD-WAN
The K7 SD-WAN solution creates virtual WAN infrastructure that has been designed to support modern enterprise workloads that combine access to SaaS services and applications hosted in on-premises data centres and public or private clouds. Businesses gain a cost-effective solution to complex networking needs with centralised control but without the need for all data to be transmitted to a central hub for analysis, improving performance, uptime, and productivity while minimising expenditure on bandwidth.
Components of K7 SD-WAN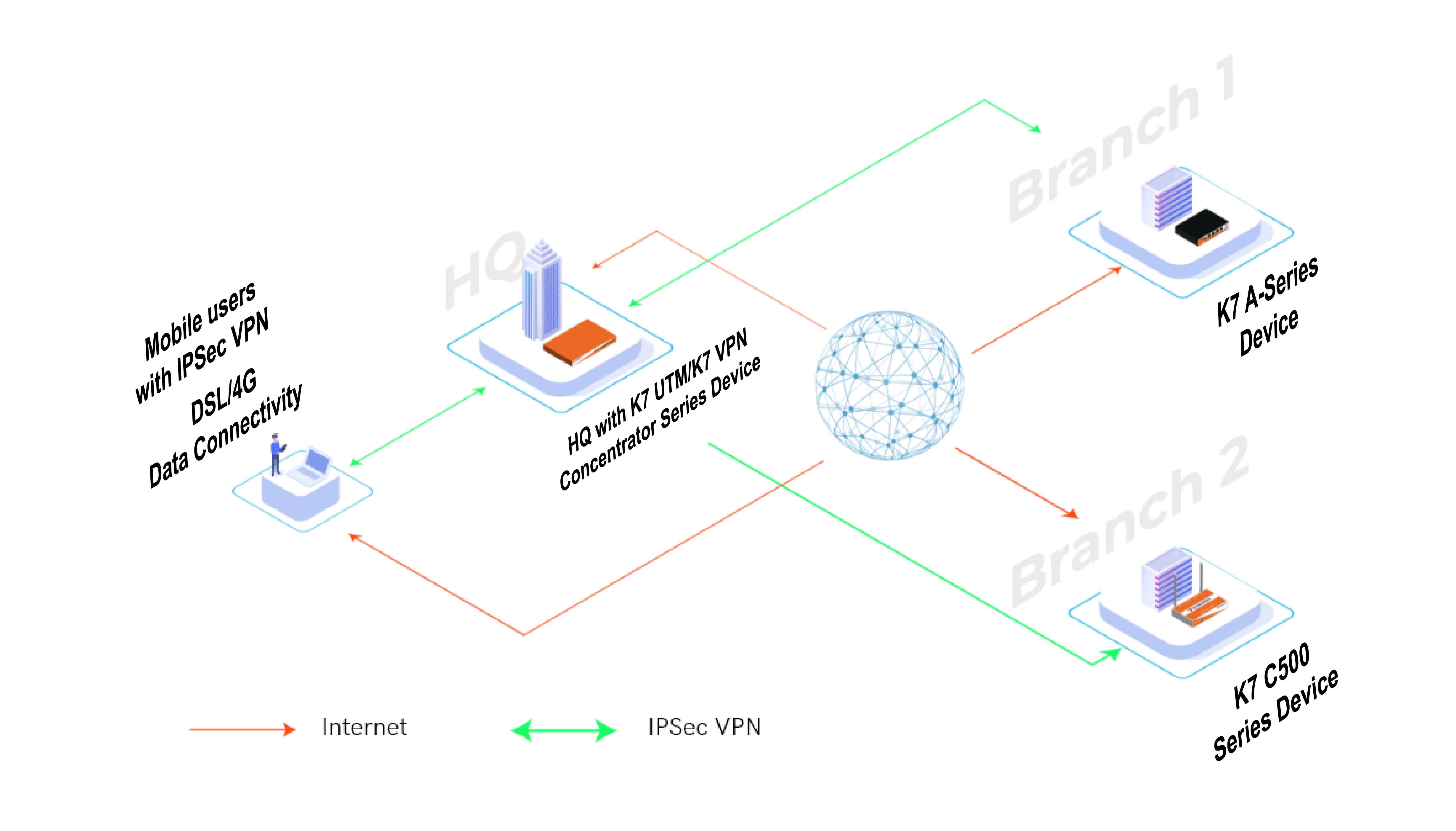 At the Head Office
K7 Unified Threat Management (K7 UTM) or K7 VPN Concentrator (K7 VPNC) devices can be installed in the head office to manage the inter-branch SD-WAN.
K7 Unified Threat Management Series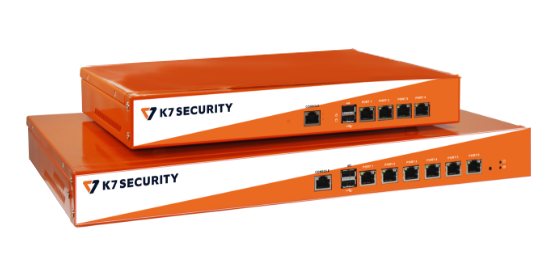 The K7 UTM devices provide gateway-level security; Authentication, Authorisation, and Accounting (AAA) user management framework; and VPN connectivity, among many other features, and are available in a range of appliances to suit organisations with varying scales of operations and number of users.
K7 VPN Concentrator Series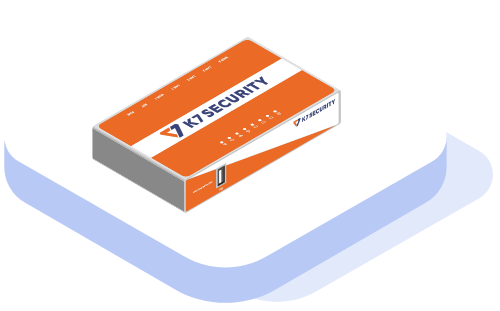 The K7 VPNC devices enable cost-effective high-performance VPN for businesses with multiple branches and a large number of users but who do not require the extensive feature-set of K7 UTM.
At Branch Offices
A K7 UTM or K7 Connect 500 device, that will integrate with either the K7 UTM or K7 VPN Concentrator at the head office, is required at each branch office to establish the SD-WAN.
K7 Connect 500 Series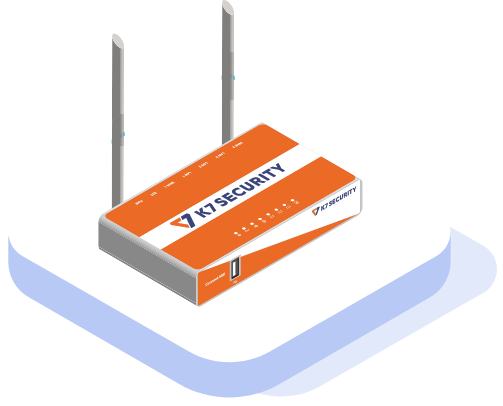 The K7 Connect 500 devices enable cost-effective secure connectivity for small branch offices. These devices include in-built 4G support (USB dongle or SIM) in addition to other connectivity options, allowing branch offices to enjoy the benefits of SD-WAN irrespective of the type of connectivity available at their location.
K7 Unified Threat Management Series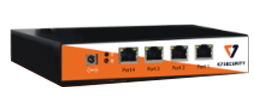 Larger branch offices that require the feature-set of a UTM device but do not require the capacity to manage as many users as the head office can deploy a K7 UTM device that supports a smaller number of users at the branch office, gaining scale-appropriate SD-WAN without spending on unnecessary solution capacity.
Feature Highlights of K7 SD-WAN
The K7 SD-WAN solution has been designed to provide the features required by multi-facility businesses that are implementing digital transformation initiatives, enabling them to gain the scalable, secure connectivity they need to create reliable digital infrastructure that integrates geographically distributed operations. Feature highlights include:
Firewall – Secure, multi-zone, Stateful Packet Inspection (SPI) firewall for access control, authentication, and network-level attack prevention with integrated Intrusion Detection System/Intrusion Prevention System (IDS/IPS)

To improve security against a growing attack surface, devices deployed in SD-WAN mode add role- and identity-based IDS/IPS capabilities on top of existing security features

Enterprise-class Networking – Quality-based link failover, inbound and outbound load balancing, and QoS bandwidth management
Next Generation Networking – Support for IPv6, multi-LAN/WAN connections, SSL/IPSec VPN with 3DES, AES, and Blowfish cipher
VPN SSL/IPSec – Static IP and Dynamic IP configurations are supported. Multi-WAN support includes VPN failover to maximise uptime
Dynamic Routing – WAN traffic can be automatically routed over the best available uplink based on characteristics such as WAN throughput, latency, and packet loss
Anti-Malware Scanning Engine – Blocks inbound spyware, adware, and related malware in addition to blocking already existing spyware and preventing adware infected systems from 'phoning-home' or transferring sensitive private data
Web Security – Identifies malicious websites using heuristic URL analysis and cloud-based website reputation services
Content Filtering – Helps businesses define the types of websites and content their users can access
Email Security – Incoming and outgoing email is checked against whitelists and blacklists. URLs and attachments contained within emails are scanned
Application Filter – Packets' (traffic) content are examined for inconsistencies, invalid or malicious commands, and executable programs
AAA User Management – Authentication, Authorisation, and Accounting (AAA) framework intelligently controls access to computing resources, enforcing policies and auditing usage
Benefits of K7 SD-WAN
Easy Deployment & Management – K7 SD-WAN is designed to be deployed quickly across the enterprise and facilitates remote monitoring and easy management of connectivity across branches, reducing IT effort and enabling the business to function with a smaller IT team
Zero-touch Deployment (ZTD) – K7 SD-WAN is designed for onboarding and deployment of new branch devices without requiring in-person manual configuration by a technician. The device can be shipped to the end-user who only needs to turn on the device and enter their credentials. Everything on the device is automatically set up and configured for them based on your organisation's policies, including all the apps they need
Scalability – The K7 SD-WAN components are engineered to support a diverse range of users and achieve scalability without sacrificing stability
100% Uptime between HQ and Branch – By supporting multiple connectivity options including mobile internet through SIMs and dongles, K7 SD-WAN ensures that 100% uptime is maintained for reliable connectivity between facilities
Logs & Reporting – 20 different kinds of logs are provided to help pinpoint faults and support compliance reporting
Please Contact Us to learn more about the K7 SD-WAN solution's features and benefits and how K7 can help provide secure inter-branch connectivity for your organisation.